In loving memory of
Jo Anne Garnham
7. 10. 1956 - 23. 12. 2022
In loving memory of Jo – an exceptional mother, wife, sister and friend.
Details of the funeral are provided below. Please feel welcome to leave a personal tribute and click the button below to RSVP:
The funeral service will be held at 12 Noon on Monday 16th January at Pembroke Lodge, Richmond Park, in the Belvedere Suite. Arrivals from 11.45.
Attire: smart and colourful!
Directions for those who are attending are provided below. Following the service, you are invited to join Jo's family for afternoon tea at the same venue. It would help us enormously with catering if you could click the RSVP link below.
Address:
The Belvedere Suite
Pembroke Lodge
Richmond Park
Richmond
Surrey
TW10 5HX
Directions:
Pembroke Lodge is located within Richmond Park close to the Richmond gate entrance. There is plenty of free parking. The Belvedere is located on the ground floor of the Georgian Wing with disabled access.
The Park is closed to traffic at dusk (approx from 4pm) so entry and exit thereafter is via Richmond Gate only, which is manned by Pembroke Lodge staff. Due to the deer and other wildlife, please take extreme care whilst driving in the park.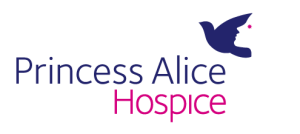 In lieu of floral tributes we invite you to donate to Jo's chosen charity, Princess Alice Hospice, who cared for her so well in her last weeks.
Thank you
I am sad to hear about Jo. She was one of the first people I encountered as I joined Beating Bowel Cancer as a trustee in 2012. She was warm, friendly, organised and, most important, showed exemplary commitment to our charity and the people we sought to help, including our Patient Days. She'll be hugely missed by the many people lucky enough to know her. Thinking of all you. Thank you and farewell, Jo
Peter Beverley
I was a trustee at Beating Bowel Cancer and met Jo there. She was a truly kind, compassionate and inspirational person. Nothing was too much trouble for her. I am so sorry for your loss.
Hilary Barrett
If you really wanted a straighforward and honest opinion about anything you could always rely on Jo. My family has known Jo and John for over 40 years and you could not meet a kinder, more good natured, more loving or humble family. What a sad loss Jo is for everyone.
Thomas Bayne
So saddened for the loss of Jo.
Jo was a lovely person and a dear friend. I will miss her very much.
Through her commitment, hard work and professionalism Jo made a huge contribution to the success of Beating Bowel Cancer where we worked together and became good friends. Her kindness, warmth and compassion endeared her to those needing help through difficult times, but also to those she worked alongside at the charity.
Taken from us too soon I will always remember Jo with love and affection.
Thinking of John and the family at this sad time.
Rest in peace dear Jo.
Hilary Whittaker
I was one of the Trustees at Beating Bowel Cancer where it was my privilege to meet Jo.
I remember the huge impact she made, putting others at the heart of everything she did. She was such a warm, kind, assured and humble person. She will be greatly missed.
Patrick Figgis
I worked with Jo at Beating Bowel Cancer, where she was a real mainstay of the charity. She had huge commitment to the work of the charity and made an enormous contribution heading up information and networks. She was a passionate advocate for patients and their families and the information and support they needed. She was also a great colleague – lovely to work with. It is so sad she is no longer with us. Thank you for everything, Jo.
Judith Brodie
To my darling Jo,
To have found you again after so many years has been a joy, and the blessings of our reunion will last forever.
We first met at Kidderminster High School for girls, when you, very reluctantly, left your school in Leighton Buzzard to come to us. And when I say reluctantly, I mean just that. Such a rebellion going on inside of you, at the unfairness of leaving the school where you had been happy. Your rebellion matched my own, and we found a common ground, we were against the silly rules and petty teachers. We managed to explode car batteries in science class while giggling to beat the band, and we received detention after detention for refusing to go to hockey which we both considered to be an abomination. You, because you loved and missed the track field at which you had excelled at your last school, and me, well simply put, because I am not very sporty. So, we took detention after detention whiting hockey pads, giggling and amusing ourselves. Finally, we wore out those games teachers and they allowed us a reprieve and we got permission to play "badminton" which neither of us knew how to play. They sent us to a big, old, beautiful gymnasium with lofty ceilings and a highly polished floor, where, struggling against our irrepressible laughter, we created a crazy surreal game "Ballet mit badders" which involved propelling ourselves with full speed across the wooden floor sweeping the shuttlecocks in our wake across the room to endless hysterical giggling! That was just the best fun. And it gave us moments of such utter freedom that girded us against the petty stuff.
We had the delight to meet many times as mature women, whose outward appearances belied those earlier naughtinesses. On one of those visits, on a wonderful adventure in Rome, over a delicious dinner, we were remembering the exploding car batteries and the secret "badders-mit-ballet", I said "how naughty we were", and you, dear, wonderful Jo, said, "no, we were not naughty, we had a strong sense of justice, we were unhappy, we needed understanding not relegation to meaningless tasks". You were, of course, so right.
That wisdom is a glimpse into the person that you always have been: funny, feisty and with an innate sense of justice that I shall treasure always. How lucky I was to meet that bright twinkley-eyed lanky girl whose quirks met mine and forged a lasting friendship. Dearest Jo, thank you for being my friend and may the heavens hold you safe and loved forever.
Alison Guest
It was with great sadness we learnt of Jo's passing. It is lovely to read the heartfelt tributes to Jo and a testament to the kindness and friendship she showed to so many.
We only met Jo on one occasion, it was last July and we were visiting the UK from Australia. We will be forever indebted to Jo and the entire Garnham family for welcoming our daughter Tess into their family. It was blatantly obviously to us of the close-knit family bond they all shared.
Taken way too soon, may she forever rest in peace.
Greg & Aly Johnson
So very sad to hear of the loss of Jo to everyone privileged to know her. Jo was the first person to join Beating Bowel Cancer after myself and she immediately endeared herself to me and all the staff with her friendliness, unpretentiousness and willingness to do her job and anything asked of her in a polite and efficient manner. The only person to receive a long service award after myself. Jo even got me to join the Rock Choir which was something that she enjoyed so much participating in. Many condolences to John, Annabel and the other family members who will all miss her so much along with many friends.
Phil Abraham
It was an honour to attend Jo's 'Celebration of Life' Service today. What a wonderful testament to her dear family. She would have been so proud of them all.
I loved too that Jo had meticulously planned her own funeral. Very Jo.
Having worked with Jo for a number of years, I experienced her feistiness, straightness and kindness of heart first hand. I always loved the rebelliousness and sense of fun in her, which contrasted with her high standards and endeavours to always do the right thing. We were very similar creatures, both always on the side of fairness, but never suffered fools gladly. We had a few run ins and shared moans over the years, but always had a mutual respect, laugh and a drink afterwards.
Having had an early high flying career like Jo, I too always felt my best calling was giving something back at Beating Bowel Cancer. She will be very much missed, but as was clearly evident today will continue to live on in her family and all those that follow.
As some of my colleagues shared today, we'd like to endeavour to be 'a bit more Jo' She gave so much, is gone too soon, but boy, she lived and enjoyed her life. I hope I'll be able to say that at the end of mine.
With much love to all of Jo's family
Jo B xx
I was so gutted to hear of Jo's ill health and her passing. She has gone far too soon and will be greatly missed!
I worked with Jo at Beating Bowel Cancer and remember her as such an impressive woman. In her knowledge, organisation, persuasiveness, kindness, as well as her sarcasm and sense of humour! She brought so much with her into that office.
My thoughts and prayers are with all Jo's family today and will continue to be over the coming months.
Much love
Nicole
Nicole Rohrs
Jo – feisty, straight forward, count-on-able, fun, committed, caring, smart, trust-worthy, gutsy and practical.
I will especially always remember and be grateful for how thoughtful and caring Jo was at a very difficult time in my life. She always showed up. An exceptional woman, who will be sadly missed.
Vicki Rose
We knew Jo Anne both as a friend and as a volunteer at Homelink where she was much loved and admired by staff and clients and by other volunteers.
She was a very warm and caring person for whom nothing was too much trouble. She made a huge difference wherever she went and will be greatly missed by so many people.
Steve Monaghan and Lesley Seddon
I was very sorry to hear Jo had passed away. We worked together at the ITF for many years and she was a happy, enthusiastic person who loved her family. My sympathies to John and the family at this very difficult time.
Barbara Travers
Would you like to add a tribute? Just click the button below. Please note tributes do not automatically publish, they are added manually by the White Rose team.