In loving memory of
Richard Michael John
07. 03. 1952 - 27. 06. 2023
In loving memory of Michael who sadly passed away on 27th June
Details of the funeral are provided below. Please click the button below to RSVP:
The funeral service will be held at 12pm on Monday 17th July at St Mary's University Chapel
Directions for those who are attending are provided below. Following the service, you are invited to join us for a reception at The Lensbury. It would help us enormously with catering if you could click the RSVP link below.
Address:
St Mary's University Chapel
692 Waldegrave Road
Twickenham
TW1 4SX
Directions:
The Chapel is located at St Mary's University on Waldegrave Road (A309) which runs from the A310 (Strawberry Vale) up to Teddington High Street. As you come through the main entrance to the University, you will see the Chapel building just behind the main car park. There is limited paid-for parking available on site, however free parking is available along Waldegrave Road and adjoining roads.
Address:
The Lensbury
Broom Road
Teddington
TW11 9NU
Directions:
The Lensbury is located along the river Thames on Broom Road in Teddington, which you can access from the Twickenham Road / Kingston Road A310 junction with Ferry Road / Teddington High Street. There is a car park at the venue.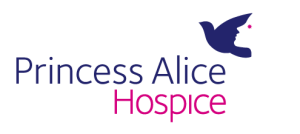 In lieu of floral tributes we invite you to donate to our chosen charity Princess Alice Hospice.
Thank you