In loving memory of Michael Johnson who sadly passed away on 19th September.
Details of the funeral are provided below.
The funeral service will be held at 1.40pm on Friday 15th October at Kingston Crematorium.
Directions are provided below. Black attire is not needed and guests should wear something cheerful instead. There will be a celebration of Michael's life at the Hampton Wick Royal Cricket Club after the service.
Address:
Kingston Crematorium
Bonner Hill Road
Kingston upon Thames
KT1 3EZ
Directions:
Access Bonner Hill Road from Hawks Road, Kingston. Drive right to the end of the road and turn right into Kingston Cemetery and Crematorium. Continue straight ahead, through the archway and as you approach the crematorium chapel, you will see car parking on the right hand side.
FUNERAL RECEPTION - 2.30pm
Address:
Hampton Wick Royal Cricket Club
Bushy Park
Park Road
Hampton Wick
Kingston upon Thames
KT1 4AZ
Directions:
Hampton Wick Royal Cricket Club is located within the grounds of Bushy Park near the Kingston Bridge end. It can be accessed by car via an access road from where Sandy Lane meets Park Road along the B358 which runs alongside Bushy Park between Kingston Bridge and Teddington.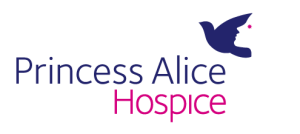 In lieu of floral tributes we invite you to donate to our chosen charity Princess Alice Hospice.
Thank you