In loving memory of Stuart Pollitt who sadly passed away on
5th October 2021
The funeral service was held on Thursday 28th October at Mortlake Crematorium.
WATCH A RECORDING OF THE SERVICE
Here are details of how to access the webcast of the funeral service live:
WEBCAST VIA OBITUS:
Click the button above to open the webcast page in a new tab
Enter your Webcast Login details (top right boxes, next to the green login button) which are as follows:

Username: tufu0763
Password: 596130

Click the Login button
Once the stream has begun the video will load automatically.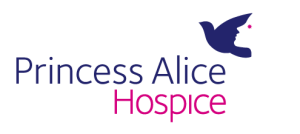 In lieu of floral tributes we invite you to donate to our chosen charity Princess Alice Hospice.
Thank you
Stuart was a friend we met on our allotments as his allotment was next to ours. Throughout all his treatments and during the lockdowns, Stuart was always cheerful and a pleasure to talk to. We were so happy to chat 'over the garden fence' to him and Renee. He also gave us plants and help – our greenhouse door broke and he mended it – all the rain in 2021 meant that plants died in the wet ground – Stuart gave us replacements. Above all we already miss a kind friend and a real gentleman.
Christine and Nathan
Stuart was a real gentleman, quiet but most supportive to Renee and the family. No longer will we exchange seedlings and produce on the allotment. Sadly, no longer will Stuart and I be putting the world to rights between digging and weeding. However, I will look across the plot and think of him often.
Jenifer Hone
It is with great sadness to learn of Stuart's passing. Stuart was an important part of my family and very close to my brother and sister before our family moved to Australia. I knew him best in my adult years on trips to London. Stuart and his mother, my Aunty Elsie, hold a special place in my heart. Our deepest sympathies to Rene and family from the Rennert family (Canberra, Australia).
Peter Rennert
Our family were very sad to hear the news of Stuart's passing. Although Stuart was my mother's cousin he and I were much closer in age and grew up together in Huddersfield, Yorkshire, under the watchful eyes of my great aunts. Despite this we all managed to have a lot of fun. Stuart was obviously gifted from an early age and it was no surprise when he went on to a stellar career. But probably his best achievement was his lovely family, of whom he was very proud. Our sincere love and thought are with Renee, Marc, Alice and Eric – From Linda and Dennis Briggs, Sydney, Australia.
Linda Briggs