In loving memory of Stuart Pollitt who sadly passed away on
5th October
Details of the funeral are provided below. Please feel welcome to leave a personal tribute.
The funeral service will be held at 11.20am on Thursday 28th October at Mortlake Crematorium.
Directions for those who are attending are provided below. The crematorium do politely request that face coverings are worn, in particular when walking into the chapel.
Address:
Mortlake Crematorium
Kew Meadow Path
Townmead Road
Richmond
TW9 4EN
Directions:
Turn into Townmead Road off the A205 Mortlake Road. At the mini-roundabout, turn right into Kew Meadow Path. Go through the gates and park in the car park on the left hand side.
The crematorium building will be in front of you, if you walk under the left archway, there is a Waiting Room on the right hand corner and loos are on the left hand side. The ladies are in the small waiting area on the left, the gents doorway is a little further along from this room.
We will be looking out for you and will come to gather you all at the required time.
After the service we will lead you out to one of the small memorial gardens where you can stay and chat for a while.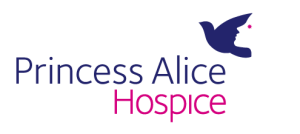 In lieu of floral tributes we invite you to donate to our chosen charity Princess Alice Hospice.
Thank you
Personal tributes will be added shortly.